Small things are sometimes the hardest to organise. They are
tiny
so if you keep them too well, you either lose them or forget where you put them. On the other hand, not keeping them meant that they will cause a mess in your house, which you do not want either. So how do you organise small things?
Here's sharing my
Top 3 Budget-Friendly Tips
for organising smalls:

#1: Stackable Storage Boxes
I absolutely love the $2 boxes from
Daiso
! I use it to store everything from jewellery to nail polish to plasters because it is so handy to carry around and fits nicely into any drawer or shelf.
Top: Jewellery packed into individual zip-lock bags and partitioned neatly using cardboard
Bottom: Small first-aid box containing plasters, oils, etc.
Clockwise from left: Boxes of office supplies on our computer table; boxes of CDs & DVDs;
More boxes of jewellery, hairbands/ hair clips & sunglasses in my wardrobe
The transparency of the boxes also make it easier for you to immediately identify its contents without having to dig through it. If however you require bigger boxes which are not available at Daiso, you can get them at
Japan Home
for between $2.50-$15.
We got them for only $3.90 each =)
It's great for putting her
Mega Blocs
and
Lego
bricks, blue for the former and pink for the latter (it's me.. of course it's colour-coordinated *laughs*).
Aren't they useful? =)

#2: Lots of Drawers
We bought IKEA's Trofast storage system for my girl's toys and love it for its easy functionality! It's exactly my girl's height so she can easily access her toys and put them back.
IKEA's Trofast system
This is her favourite tray to carry to the room and play with. To keep the individual items neatly, we bought (yet another) pink box from Daiso to put her little Play-Doh pieces. The other green box came with the Play-Doh set I bought, which contained moulds to make all kinds of food.
Seeing how much my girl loves to play with this set, I'm thinking of buying all the sets in this series as the boxes can be stacked up! I know.. it's an addiction! *laughs*

#3: Get Creative & Recycle
And if you don't want to spend a cent, you can recycle whatever materials you have at home with just a little bit of creativity! We bought mooncakes from Bakerzin last year that came in really cute boxes with small compartments. I felt it was such a waste to throw them away and thought it would be great for storing my brooches! =)
Ingenious right? Sometimes the best ideas are simple and free! =)
How do you store your smalls?

Linking Up With: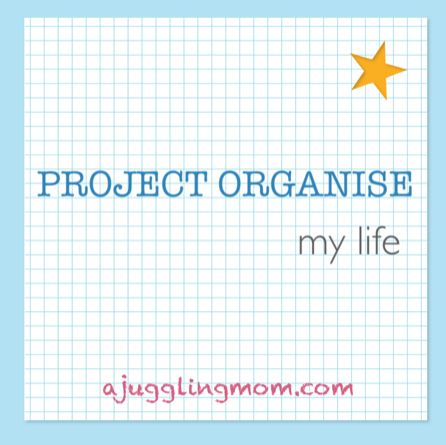 Read on for more of my practical and sometimes extreme tips for organising your life! =)